Site Manager:
Audra Veroeven
Phone:
507-833-1150
Email:
audrav@palmerbusservice.com
Facility Address:
1601 5th St. SE
Waseca, MN 56093

Mailing Address:
PO Box 577
Waseca, MN 56093

Audra Veroeven manages Palmer Bus Service of Waseca, MN. Audra has been with Palmer Bus Service since 2018 and started as a manager in 2022. Audra enjoys working in her community where her kids are growing up. Audra volunteers in the community boards and loves going to games to cheer on all teams here in Waseca.
Palmer Bus Service has been serving the Waseca community by safely transporting students since 2016. We safely transport about 600 students each school day in Waseca, MN.
Waseca School District #829 consists of Waseca High School, Junior High, Intermediate, Hartley and Sacred Heart Elementaries and the Waseca Area Learning Center. We also serve TEAM Academy, a local charter school.
The Waseca community is located in Waseca County, Minnesota and is about 70 miles south of the Twin Cities.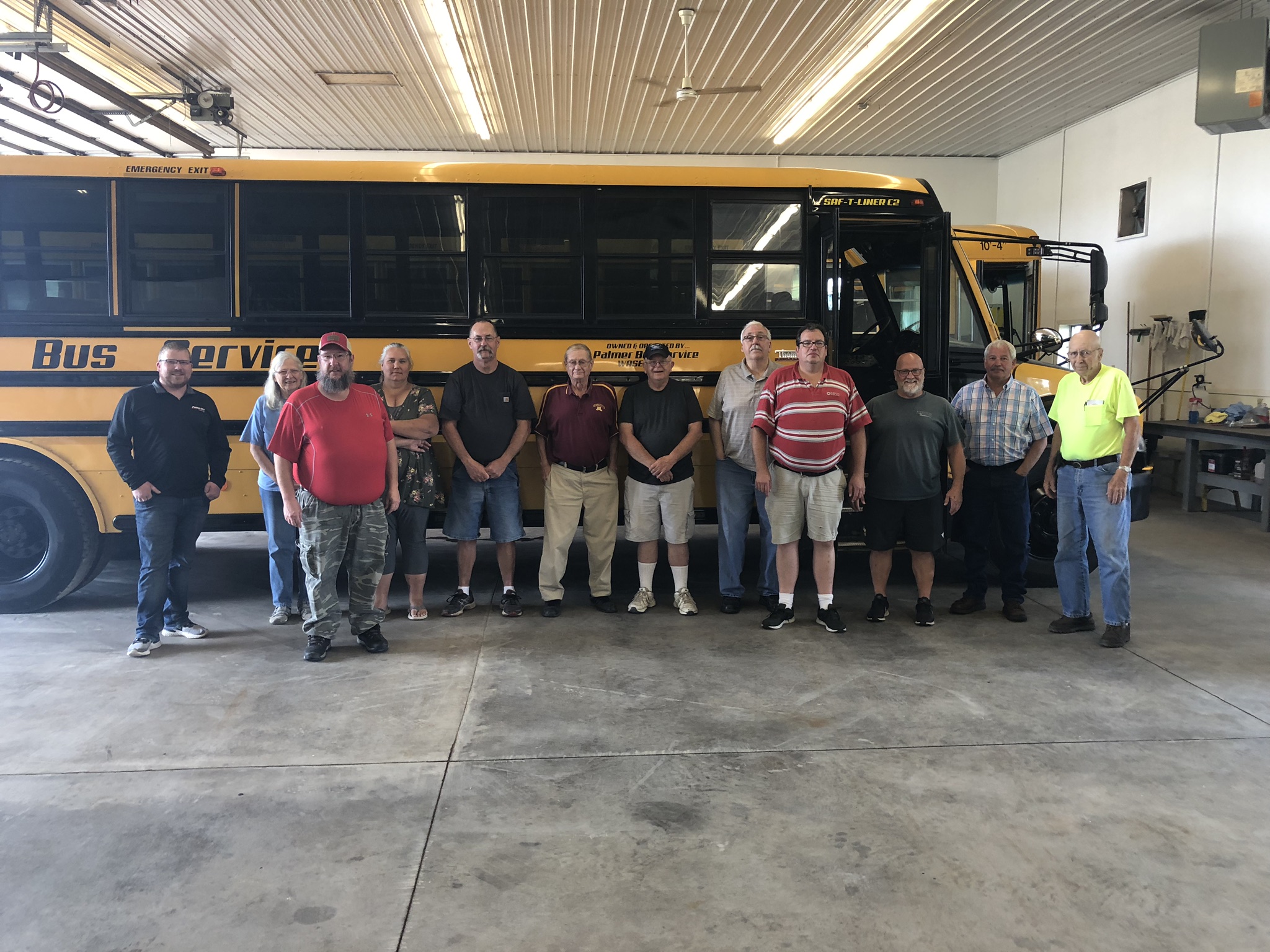 Core Value Award Winners for Palmer Bus Service of Waseca 2019-2020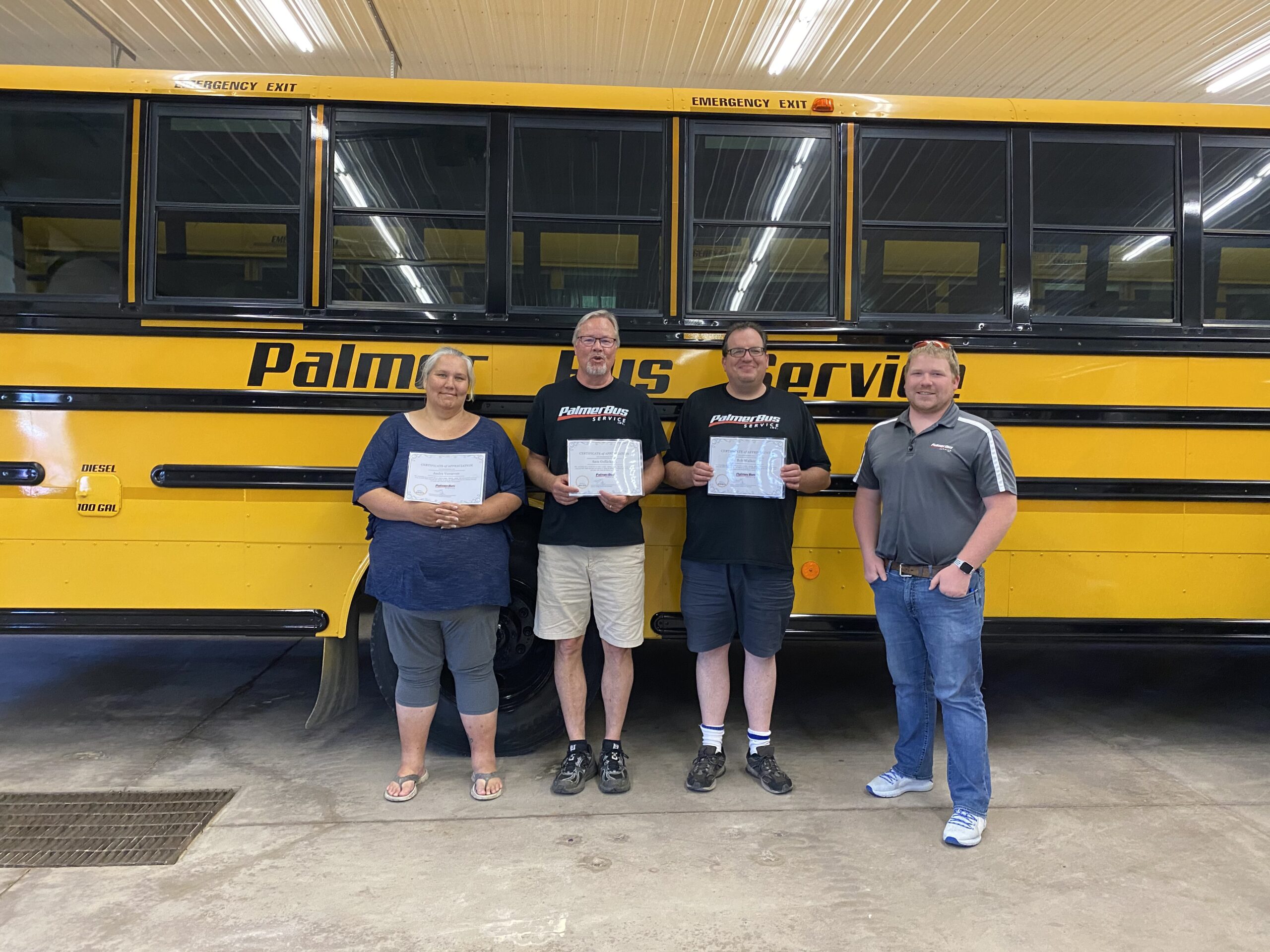 Core Value Award Winners for 2019-2020
These drivers faithfully served the Waseca community by safely transporting students and exemplified our Core Values all school year. They demonstrated:
SAFETY by being accident free and completing every monthly safety training before it was due.
INTEGRITY by always conducting themselves as a professional driver.
DIGNITY by completing daily pre trips, and ensuring their bus is swept, clean and fueled.
HELP by being present to drive almost every single school day.
COMMUNITY  by safely transporting students!
Congratulations and thank you for your superior service!
MSBOA Transportation Specialist Award Winner 2018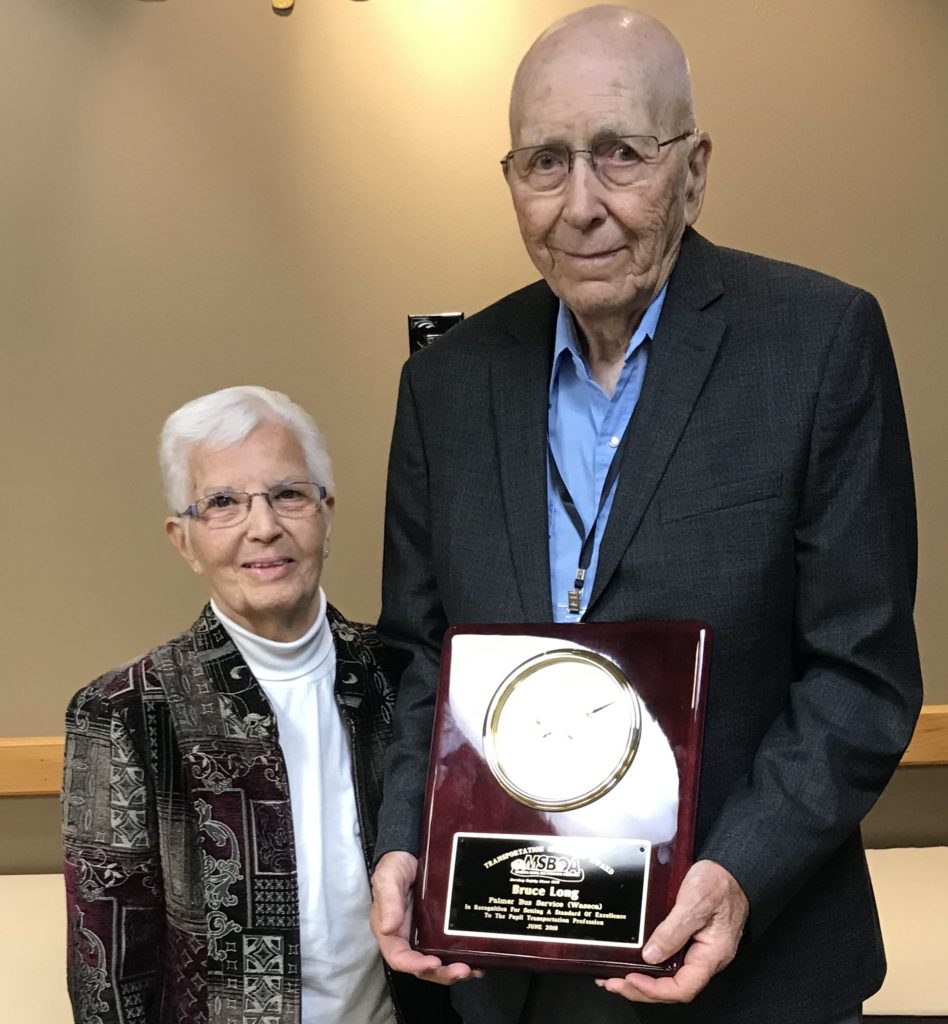 April 23, 2018
MSBOA Transportation Specialist Award
I would like to submit school bus driver, Bruce Long for consideration to be nominated to this prestigious award.
Bruce first started driving a school bus shortly after graduating from Waseca High School 69 years ago that has turned into 35 years of dedication to school bus driving in both Iowa and lastly Minnesota. Bruce is a current driver that drives a daily rural bus route for Palmer Bus Service, serving the Waseca Public Schools. Bruce will run any activity trip whether it is in town, out state MN or downtown Minneapolis, with confidence and dedication to student safety and efficiency. Whenever or whatever the driving job is, we can count on the job getting done like clockwork, on time and without delay, safely.
Bruce is well respected by the students on his bus, parents along his route, teachers, administration as well as his peers here at Palmer Bus Service, Waseca MN.
Bruce fits our company core values of Safety, Integrity, Dignity, Help, and Community on or off duty.
We are proud of Bruce's dedication to student safety as a Palmer Bus Service driver!
Brian A Lynch
Manager
1601 5th St SE
Waseca, MN 56093
507-833-1150