Minnesota Valley Lutheran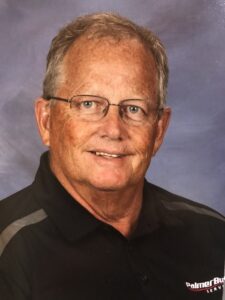 Site Manager:
Ray Vulcan
Phone:
507-354-6851
Email:

[email protected]

Address:
45638 561st Ave
New Ulm, MN 56073
Ray has been with Palmer Bus Service for the past 20 years. He started out as an activity driver while his children were in sports, transitioned into a sub-route driver, then a regular route driver, then a Head Start driver all in the St. Peter School District, then moving to the Mankato shop as a sub-driver and activity driver and eventually a regular route driver.  During this time, he. was also working full time as a Vocational Counselor in the Workers Compensation industry.
Ray started working as a full time Site Manager in November of 2020 at Minnesota Valley Lutheran High School.  He's got a great team of drivers that are very good to work with, which makes the job a little easier.
Ray and his wife Suzanne have raised a total of 4 kids, two from his previous marriage and two with Suzanne. They have 10 grandkids from 2 years old to 21 years old. Ray likes to golf, hunt and fish, as well as spending time with their children and grandchildren.
Minnesota Valley Lutheran High School and Palmer Bus Service have been partners in transporting students at MVL since 2003. In this partnership with Palmer Bus Service, we have been blessed to work with bus drivers who really seem to enjoy transporting our students to and from school and for activities and events. Our site manager has been responsive to our needs and goes out of his way to work with the various schedules and logistical challenges that come along. The good people who manage and administrate Palmer Bus Service continue to insure that our relationship grows through quality service and excellent customer relations. Thank you, Palmer Bus Service, for being partners with Minnesota Valley Lutheran High School!
Tim Plath
MVLHS Principal
Palmer Bus Service has been serving the Minnesota Valley Lutheran community by safely transporting students since 2003. We safely transport about 140 students each school day for MVL. Minnesota Valley Lutheran consists of one 9-12 school located just outside of New Ulm, MN. MVL is located in Brown County and is about 100 miles southwest of the Twin Cities. Minnesota Valley Lutheran High School has been in the area since 1980 and provides quality Christian education to high school youth.