Site Manager:
Connie Johns
Phone:
507-245-3417
Fax:
507-245-3418
Email:
conniej@palmerbusservice.com
Facility Address:
521 County Rd. 15 E
Janesville, MN 56048
Mailing Address:
PO Box 70
St. Clair, MN 56080
Palmer Bus Service has been serving the St. Clair community by safely transporting students since 1974. We safely transport about 600 students each school day in St. Clair, MN.
St. Clair School District #75 consists of St. Clair Secondary and Elementary Schools.
The St. Clair community is located in Blue Earth County, Minnesota and is about 80 miles south of the Twin Cities.
Connie Johns manages Palmer Bus Service of St. Clair, MN. Connie has been involved in the busing industry since 1979 and has worked for Palmer Bus Service for all of those years! Connie's favorite activity when she has spare time is reading, especially murder mysteries. She always has a paperback book along with her so that if she is waiting for a group that she has bused she can read while she waits.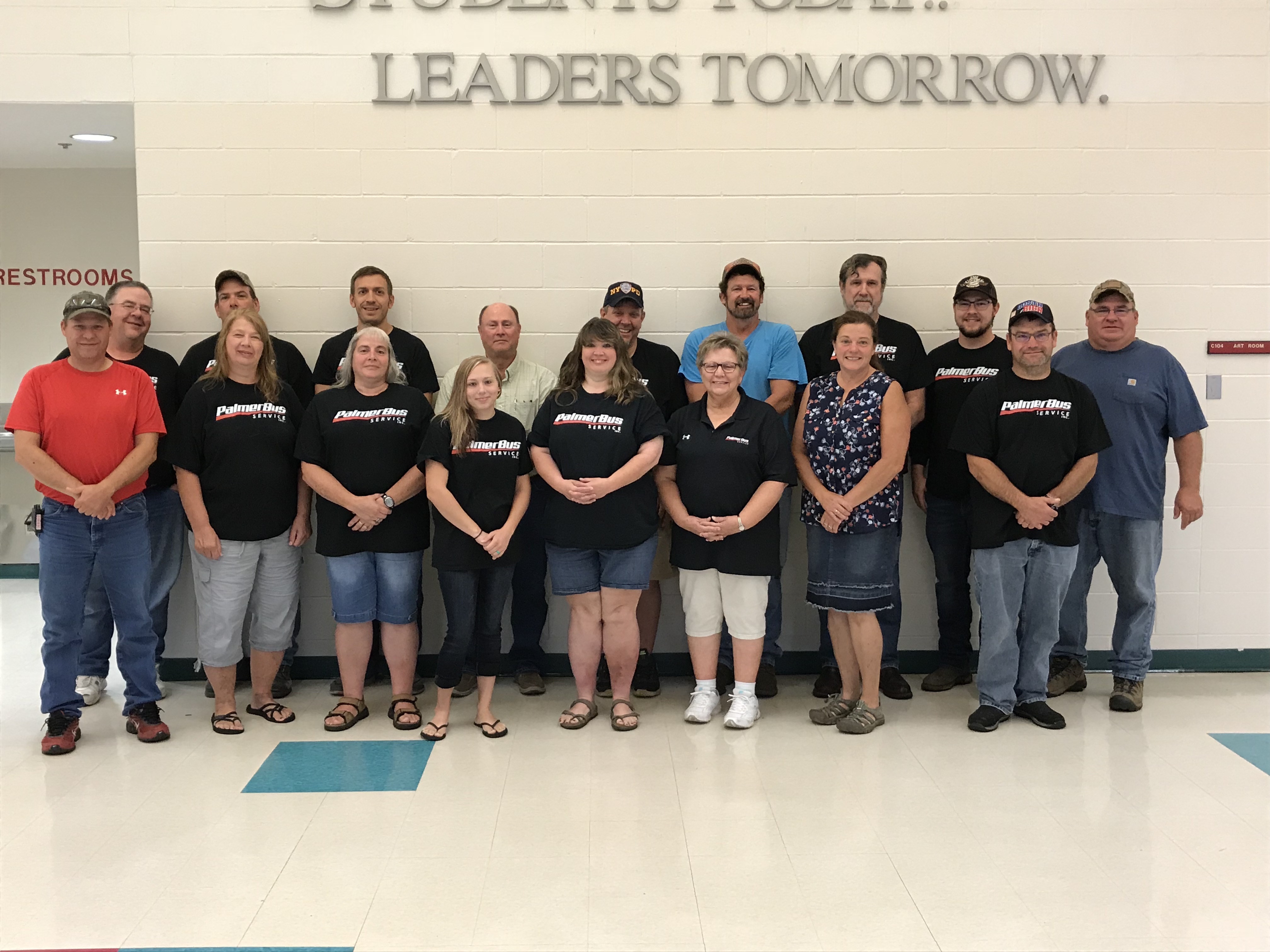 Award Winning Drivers for Palmer Bus Service of St. Clair 2017-2018
Harold Drummer
Harold is a substitute driver but when 2 drivers had to stop driving their morning or afternoon route he stepped in and drove a route just about every day this spring.
Harold drove many extracurricular trips, even on days when he had his own work to do. Some drivers only want to drive trips that their children are on, but Harold drove whatever I needed him for.
Harold always fuels and sweeps the bus after a trip. He has a fun rapport with the students and supervisors.
His attitude is always positive and friendly. He often stepped in and helped with small bus repair issues if he was already here to drive.
He went above and beyond and he is greatly appreciated!
Gerald Hohn
Gerald is technically a substitute driver but he drives a route whenever he does not have to work at his main job. He gives me his work schedule every week so that I can plan on him driving on his available days.
Gerald is always early to arrive and often stays late to help out with any end of the route or day issues or problems. He frequently helps with small maintenance and repair jobs in the shop and on buses.
Gerald learned all of the routes so that he could sub wherever I needed him. He drove extracurricular trips if he was available.
Gerald is always helpful and willing to do whatever I ask of him. He is very much appreciated!
Lisa Hohn
Lisa is only available to drive an afternoon route, but she is always here to drive her route. She never missed a route all year. In fact she is one of the only drivers that would always look ahead at the school calendar and would have her main employer schedule her hours so that she would always be available for any days when school was dismissed early.
Lisa is so very committed to doing her job that she has even rescheduled other appointments so that she would be able to drive her route. She knows that substitute drivers are in short supply.
Lisa's route is well managed. She keeps her student's in line, firmly but with caring and friendliness. She always keeps her bus swept and she walks it every day and picks up litter so that whenever you would step on her bus it was always neat.
Lisa is a very dedicated driver and she is appreciated very much!
Steven Kruse
Steve is one of the more experienced drivers at St. Clair. He is a very skilled and excellent driver and his bus route is always on time and the students are very well behaved. He lets them know what his expectations are in a firm but friendly manner.
Steve's bus is always kept fueled and swept. He picks up any litter after every route.
Steve will drive whatever extracurricular trip I need him to drive if he is available. He knows his way around the state and the cities very well so I never have to worry about giving him directions.
Steve farms as his main employment but because he knew of the shortage of drivers this year he never asked for any time off to do his farm work. I know he worked late many nights and weekends to make up for the time.
Steve is a very valued and important driver and is very much appreciated!
Louis Walechka
Louis goes by the name Rick so I will refer to him as so.
Rick is a substitute driver whose main employment is as a licensed electrician. He is not available to drive routes but he drives extracurricular trips when he can.
With the extreme shortage of drivers this year I called on Rick many times to drive a trip for me. When he would drive a trip he would usually have to leave his main job early. He was willing to do this, even though he gave up earning 30 plus dollars an hour to do so.
There were a couple times this year when Rick took the whole day off from his main job to drive an all-day field trip for me. This is true dedication to being helpful!
Rick is a very skilled and competent driver and I never have to worry when he is driving a trip. He interacts well with the students and supervisors. He always fuels and sweeps the bus after a trip.
Rick has even helped do some light electrical maintenance at the shop and on some buses in order to help me out.
Rick goes above and beyond to be helpful and he is truly appreciated!