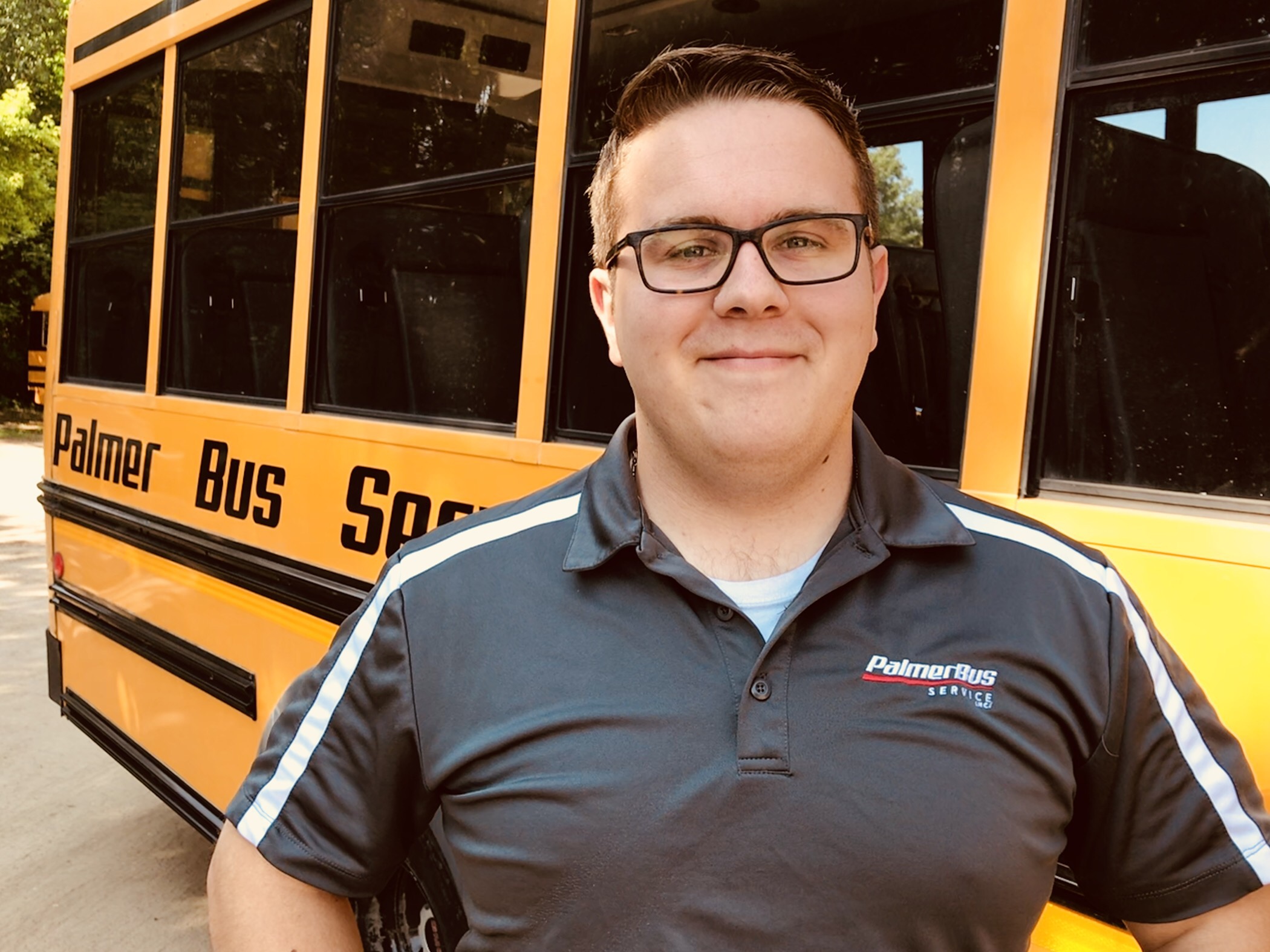 Site Manager:
David Kleppe
Phone:
952-445-1166
Fax:
952-445-9632
Email:
davidk@palmerbusservice.com
Address:
730 West 3rd Ave.
Shakopee, MN 55379

David Kleppe manages the Palmer Bus Service Terminal in Shakopee MN. David has been with Palmer Bus Service since 2018. He enjoys his job and looks forward to leading Shakopee's outstanding team of routers, dispatchers, mechanics, drivers, and everyone in between. He values all the relationships that he has been able to build with students and staff of Shakopee Public Schools and SACS. He spends his free time playing guitar, fixing up his house, and enjoying every minute that he gets with his wonderful wife.
Palmer Bus Service has been serving the Shakopee community by safely transporting students since 2004. We safely transport about 6,700 students each school day in Shakopee.
Shakopee School District #720 consists of Shakopee High School, Central Family Center, Tokata Learning Center, East and West Junior High Schools Schools, Pearson 6th Grade Center, and Eagle Creek, Jackson, Red Oak, Sun Path and Sweeney Elementary Schools. In addition, Palmer Bus Service serves the Shakopee Area Catholic Schools, Living Hope Lutheran School, as well as SouthWest Metro Intermediate School District #288.
Shakopee is located in Scott County, MN and is a southwestern suburb of the Twin Cities. It is a diverse and growing community.
Superintendent Mike Redmond talks about the Partnership Between Shakopee Schools and Palmer Bus Service
Core Value Award Winners for Palmer Bus Service of Shakopee 2018-2019
Core Value Award Winners for 2018-2019
These drivers faithfully served the Shakopee community by safely transporting students and exemplified our Core Values all school year. They demonstrated:
SAFETY by being accident free and completing every monthly safety training before it was due.
INTEGRITY by always conducting themselves as a professional driver.
DIGNITY by completing daily pre trips, and ensuring their bus is swept, clean and fueled.
HELP by being present to drive almost every single school day.
COMMUNITY  by safely transporting students!
Congratulations and thank you for your superior service!
MSBOA Transportation Specialist Award Winner 2018-2019: Pam Boomgaarden
Comments from supervisors:
Pam is very organized and does an excellent job of communicating with parents, school staff, and drivers. Pam is also willing to help out with other duties from driving regular route bus, trip bus, special ed route bus to cleaning the office and bathrooms. Pam is a valuable asset to Palmer Bus Service and the Shakopee School District.
The quality of Pam's that is hardest to quantify is how often we look to her for an answer. I find myself saying, "Hey Pam?" multiple times per day, and that is indispensable.
Comments from co-workers:
In my world, you earn respect, Pam has mine! She is great to work with, she has a great sense of humor and a great work ethic. She deserves this award!
Pam has wonderfully mastered the ability to remain positive and professional while dealing with daily challenges that arise with students, schools, and drivers.